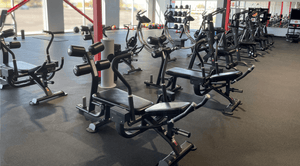 The Abs Company + Kandu = Easy, No-Stress Assembly
Announcing a new partnership with Kandu!
Our customers can now schedule assembly of their products with our assembly partner on their platform.
HOW IT WORKS:
Step 1. Order your equipment.
Step 2. Book a date for assembly - ideally 10 days from your order date to make sure your equipment arrives in time.
Step 3. Kandu emails your confirmation.
Step 4. Kandu calls to confirm assembly date, reschedule if necessary.
Step 5. You won't get charged until assembly is completed.
All payment and scheduling is handled by Kandu.
Currently, all Ab Coaster® models, AbSolo®, all Abs Bench™ models, X3S™ Bench, Vertical Crunch™, TargetAbs™, LumbarX™, and BRST System®.
More to come!
Base assembly with Kandu starts at $199. The Vertical Crunch and AbSolo start at $249.
Additional services such as removal of packing materials or moving the equipment will incur additional fees.